Building pan-African Bioinformatics Capacity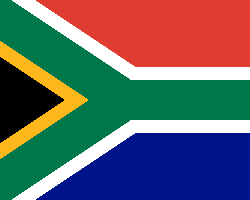 Computational Biology Division, CBIO - UCT

Central Node
The Computational Biology Division is the central node of H3ABioNet and the centre of Bioinformatics activities at the University of Cape Town. The division is part of the Department of Integrative Biomedical Sciences and is based in the Institute for Infectious Disease and Molecular Medicine in the Health Science Faculty.


Prof. Nicola Mulder : Head of Computational Biology Division
Prof Mulder heads the Computational Biology Division at the University of Cape Town, and leads H3ABioNet, a Pan African Bioinformatics Network of 28 institutions in 16 African countries. H3ABioNet is developing bioinformatics capacity to enable genomic data analysis on the continent. Prior to her position at UCT, she worked for 8.5 years at the European Bioinformatics Institute in Cambridge, as a Team Leader for bioinformatics resources. At UCT her research focuses on genetic determinants of susceptibility to disease, African genome variation, microbiomes, genomics and infectious diseases from the host and pathogen perspectives. Her group provides bioinformatics services for local researchers, through which they develop visualization and analysis tools for high-throughput biology. Her team has also developed new and improved algorithms for the analysis of African genetic data and for downstream analysis and interpretation of GWAS data. Prof Mulder is actively involved in training and education, including bioinformatics curriculum development. She co-chairs international committees on Bioinformatics education and sits on a number of Scientific Advisory Boards for African and International projects.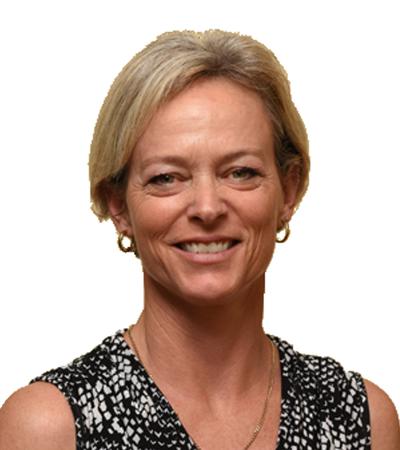 Bioinformatics
Data governance
Genomics
Computational Genomics
Proteins
Computational Biology
Functional Genomics
Gene and Protein Families
Genetic Variation
Infectious Disease
Metagenomics
Molecular Biology
Sequence Analysis
Assoc. Prof. Darren Martin (Faculty Member)
Darren Martin's main research interests lie in studying the role that genetic recombination plays during virus evolution.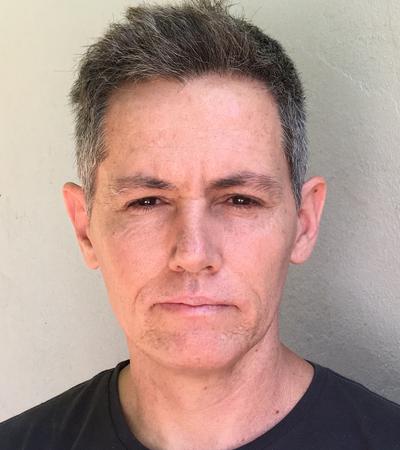 Bioinformatics
Computational Biology
Evolutionary Biology
Phylogenomics
Phylogeny
Virology
Mr. Gerrit Botha - Senior Bioinformatician
Gerrit Botha is a senior bioinformatician at the Computational Biology division of the University of Cape Town. His background is electronic engineering but gained experience in bioinformatics whilst working as a software developer at the division. His area of expertise is in human variant analysis, microbial analysis and bioinformatics compute environment and pipeline design.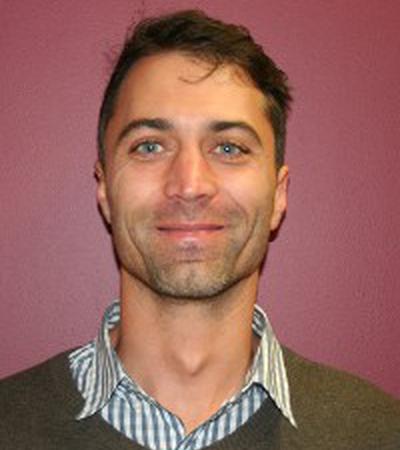 Bioinformatics
Computer Science
Data Governance
Metagenomics
Software Engineering
Whole Genome Sequencing
Workflows
Genomics
Dr. Sumir Panji - Network Manager
Sumir Panji obtained his PhD in Bioinformatics from the University of the Western Cape as part of the Stanford South Africa Biomedical Informatics (SSABMI) programme where he developed computational and analyses pipelines to determine the intersection between bacterial virulence and positive selection in Professor Winston Hide's laboratory. He completed his postdoctoral studies in Professor Alan Christoffels' laboratory at the South African National Bioinformatics Institute (SANBI) where his focus was on genome assembly, annotation, data mining, large scale statistical analysis of genomics data and development of various computational pipelines and analyses workflows for a myriad of genomics' data types. Dr Panji's main interests are in creating and implementing computational and analyses workflows, statistical analysis of biomedical data, biological algorithms, high performance computing and the overall application of bioinformatics and genomics methods to better understand complex biological systems. Dr. Panji is currently a bioinformatician within the H3ABioNet consortium (www.h3abionet.org) who is interested in genome science, data analysis workflows, statistical analyses of large 'omics datasets, implementation and interpretation of bioinformatics solutions to diverse biological problems and providing bioinformatics support to the H3Africa projects.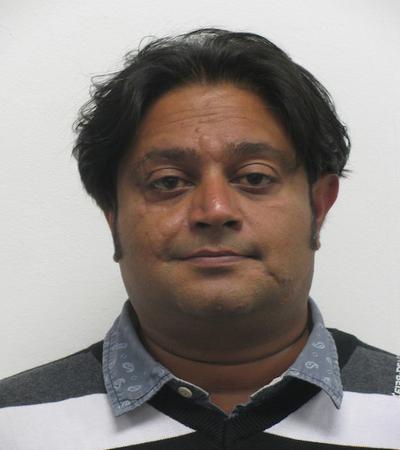 Bioinformatics
Data Governance
Biobank
Genomics
Data Mining
Data Submission
Metagenomics
Biomedical Science
Comparative Genomics
Data Architecture
Workflows
Analysis and Design
Annotation and Curation
Evolutionary Biology
Exome Sequencing
Genetic Variation
Genotype and Phenotype
Human Genetics
Infectious Disease
Microbiology
Population Genetics
Sequence Analysis
Sequence Assembly
Statistics and Probabilities
Mr. Ayton Meintjes - Software Developer
Ayton Meintjes is a Bioinformatics software engineer at CBIO. He completed a BSc in Computer Science at the University of Pretoria, and after a period of development in the commercial field, returned to do a BSc (Hons) with specialisation in Bioinformatics. In 2008, he joined the CBIO Group at UCT and has collaborated on projects mostly focusing on human population genetics and genome wide association studies. He is currently part of the H3ABioNet Central Node. His current research interests are in visualisation of complex biological datasets, workflow integration and computational challenges posed by the large databases produced by modern sequencing technologies.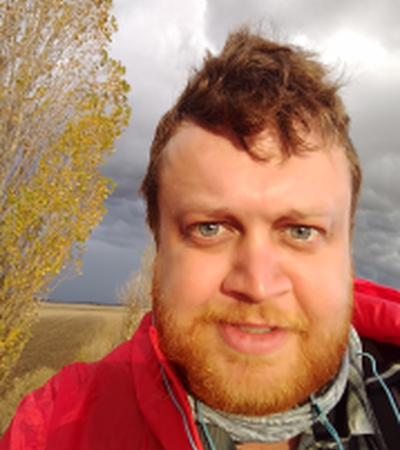 Bioinformatics
Data Governance
Computer Science
Computational Biology
Workflows
Data Architecture
Analysis and Design
Data Mining
Data Security
Data Visualization
Data Management
GWAS Study
Population Genetics
Software Engineering
Mr. Suresh Maslamoney - Systems Administrator
Suresh Maslamoney is a Systems Administrator for the H3ABioNet consortium and the University of Cape Town's Computational Biology Division located in Cape Town, South Africa. Suresh has 10+ years of IT technical experience in designing and developing IT infrastructure. While Suresh's expertise span both Microsoft and Linux systems, the last 7 years were focused mainly on Bioinformatics infrastructure across Linux systems.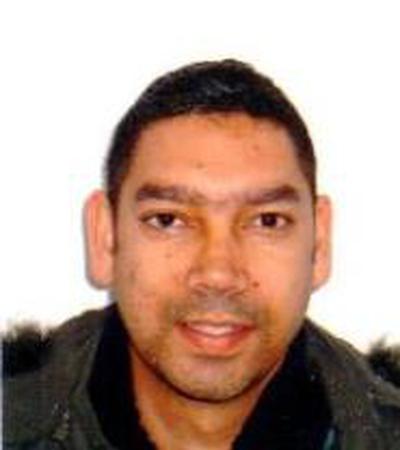 Mr. Ziyaad Parker - Data Manager
Ziyaad Parker is currently the Data Manager for the Computational Biology Department under H3ABioNet Core. He worked in corporate as well as freelance projects for a few years as a Software Developer before joining this position. The previous years of experience gave him the head start he needed in order to be in his current role. In the role he is primarily responsible for developing the H3Africa Data Archive, which is used as a repository for all submissions of data by H3Africa groups to the European Genome-phenome Archive. He also currently assists with making the data FAIR and having it available via an online catalogue. He taught FAIR data and Open Licensing at the Mozilla Open Science Trainings. He is also involved with Software and Data Carpentry.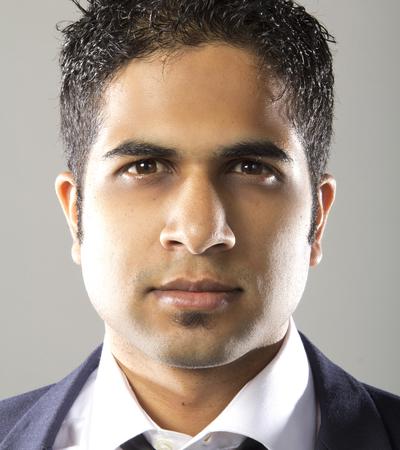 Data Governance
Mathematics
Computer Science
Data Identity and Mapping
Workflows
Data Integration and Warehousing
Data Quality Management
Data Mining
Data Security
Data Visualization
Data Management
Data Submission
Annotation and Curation
Machine Learning
Natural Language Processing
Mrs Katherine Johnston - Software Developer
Katherine Johnston is currently co-chair of the H3ABioNet Health Informatics Work Package and focused on building Phenotype Standards for the African context. She provides support to the H3Africa Consortium studies in phenotype data collection and harmonisation, software platforms and incorporation of ontologies. With a long-standing desire to play a role in advances in genetic research, Katherine moved from a position as Head Clinical Data Manager at AHRI, Durban and joined the Computational Biology Division at UCT, Cape Town as an H3ABioNet Software Developer. She completed an Honours degree in Computer Science and Economics and started her career working in Electronic Health Record systems development. Discovering a passion for helping medical professionals in the field of patient care by building them useful electronic tools she joined CAPRISA as a Clinical Data Manager in 2004 and worked with enjoyment in the field of clinical data management for 13 years. During this time, she married and had three beautiful children, the first of whom has Down Syndrome. As a result, she finds herself unexpectedly combining her interest in genetics, health informatics and patient care with her love for her children, advocating for inclusivity and research advancements in medical care, data collection standards and software development to benefit all genetically diverse people in Africa.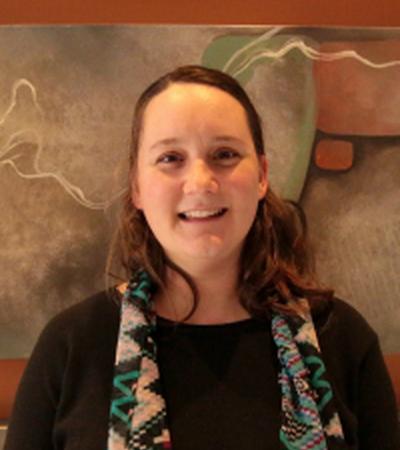 Data Governance
Data Identity and Mapping
Computer Science
Phenotype and Genotype
Data Integration and Warehousing
Data Quality Management
Data Mining
Ontology and Terminology
Data Submission, Annotation and Curation
Database Management
Literature and language
Software Engineering
Translational Medicine
Medical Informatics
Mr. Mamana Mbiyavanga - Software Developer
After completing his bachelor's degree in computer science and mathematics, Mamana worked for several years as a software developer and IT manager before completing a postgraduate diploma mathematics in 2012 at the African Institute of Mathematical Sciences (AIMS) in South Africa. During this period, Mamana found his passion in bioinformatics, which he continued to develop during his master's degree at the University of Cape Town (UCT). He is interested in exploring future technologies and interdisciplinary computer problems to improve his knowledge and skills in bioinformatics, machine learning, big data and web services. He has a great interest in exploring the genomic and pharmacogenomic diversity of African populations and building genomic capacities in Africa, which he believes offer great opportunities for solving health and education challenges on the African continent. Since 2014, he is a member of the H3ABioNet project, where he is currently working as a bioinformatics software developer in the computational biology group at the University of Cape Town, where he is also registered as a PhD student.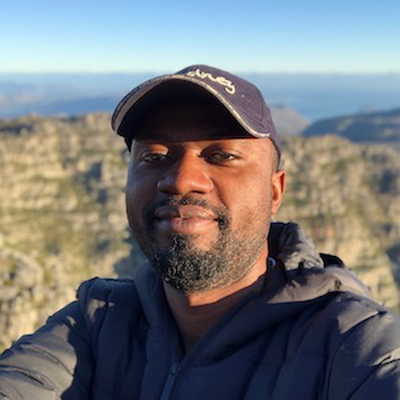 Bioinformatics
Genomics
Computer Science
Mathematics
Pharmacogenomics
Data Architecture, Analysis and Design
Exome Sequencing
Data Mining
GWAS Study
Whole Genome Sequencing
Mr. Paballo Chauke - Training and Outreach Coordinator
Paballo, who is currently the Training and Outreach Coordinator for H3ABioNet, has an MSc in Biodiversity, Conservation and Management (BCM) from the School of Geography and Environment (SoGE) at the University of Oxford (Oriel College) in the United Kingdom. His MSc research was titled "Fighting the "Good" Fight: Green Violence and Anti-Poaching of Rhino in the Kruger National Park, South Africa". Mr Chauke also has two degrees from the University of Cape Town, an undergraduate degree (cum laude) with a triple major in Sociology, Environmental Geographical Sciences and Xhosa Communication. He also holds an honours degree in Environmental Geographical Sciences from the same institution. He has a multi-trans and cross disciplinary background and has a vast experience in research, coordination, facilitation, teaching, translation, supervision, mentoring and volunteering. He has a myriad of overlapping interests and skills/experience ranging from climate change, (sexual) health, bioinformatics training, land restitution, genomics medicine, nature conservation and social justice just to name a few. Paballo Chauke was placed on the 200 Young South African list by Mail and Guardian in 2018, for his work in education.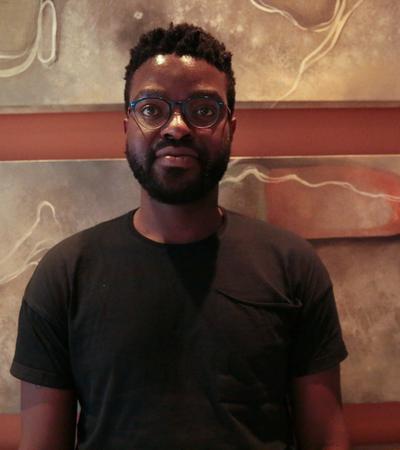 Bioinformatics
Biodiversity
Literature and Language
Miss Verena Ras - Training and Outreach Coordinator
Verena holds an MSc in Biodiversity and Conservation Biology from the University of the Western Cape (UWC) and is passionate about science education. Her expertise lies in the fields of taxonomy and conservation genetics. Her previous work focused on resolving the taxonomic status of three species of Chrysaora jellyfish along the southern African coast line and in the process discovered a new species Chrysaora agulhensis sp. nov. (Ras et al. in submission) and assisted in the discovery of another Catostylus sp. nov (Moodaley et al. in submission). She is currently enrolled as a PhD student at UWC and hopes to provide valuable information on the population biology and genetic connectivity of scyphozoan jellyfish along the West and East African coast line, using bioinformatic techniques and whole genome sequencing to develop the first ever eco-informatic study performed on jellyfish. She hopes to further refine and develop her skills in these areas while at H3ABioNet.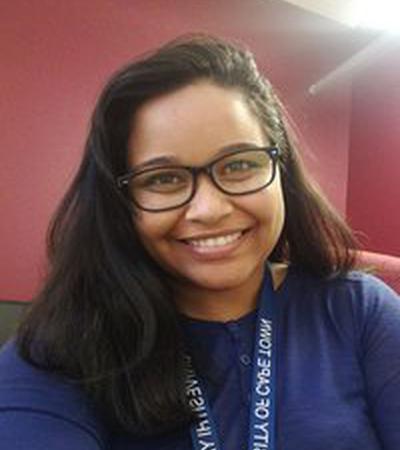 Biodiversity
Comparative Genomics
Computational Biology
Data Quality Management
Data Submission, Annotation and Curation
Database Management
Evolutionary Biology
Genetic Variation
Molecular Biology
Phylogenomics
Phylogeny
Plant Biology
Population Genetics
Quantitative Genetics
Sequence Analysis
Sequence Assembly
Statistics and Probabilities
System Biology
Whole Genome Sequencing
Mr. Wisdom A. Akurugu - PhD Student
Wisdom Akurugu holds BSc Biochemistry (Single Major) and MSc Bioinformatics degrees. Wisdom is interested in understanding genetic factors that place a person at risk of developing diseases. He has been mining human genetic exome data for variations that may protect or predispose asthmatic children on corticosteroid treatment to hypothalamic-pituitary-adrenal suppression (HPAS). He is using various Bioinformatics, Computational and Statistical algorithms to identify, annotate and assess the impact of the potential variants on HPAS. Wisdom is enthusiastic about contributing to the effective and efficient treatment of asthmatics on corticosteroids based on his current project. In the near future, he looks to developing Bioinformatics, Computational and Statistical competencies in analyzing large-scale robust genomic data. He is opened to collaborations in the areas of genomics, proteomics, transcriptomics, structural biology, software development and teaching.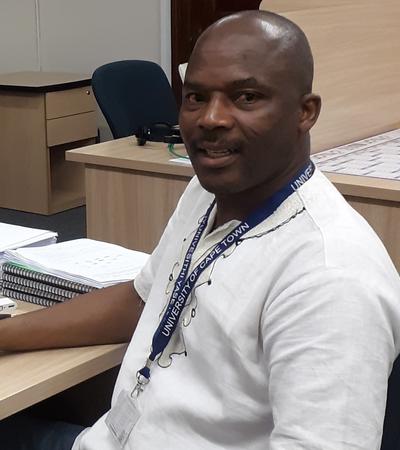 Bioinformatics
Exome Data Analysis
Genetic Variation
Human Genetics
GWAS
Structural Bioinformatics
Computational Biology
Statistical Genetics
Biochemistry
Mr. Musalula Sinkala - PhD Student
Musalula Sinkala is a PhD Candidate of Bioinformatics at the University of Cape Town in the Institute of Infectious Disease and Molecular Medicine. He holds a BSc. in Biomedical Sciences and an MSc. in Chemical Pathology. His research interests include the application of computational and mathematical methods to study the complexity of regulatory networks in disease. Musalula applies novel hypotheses to multiple high-throughput data such as genome-wide expression measurements, proteomics, whole-exome sequencing data and among others while aiming to better understand the structure and function of regulatory networks using integrative approaches. Primarily, He integrates cellular signalling network models with clinical information and prior knowledge from multiple databases to develop a multiscale understanding of the overall cellular states in physiology and disease. He also applies statistical and machine learning methods, and other data mining techniques to study how alterations of distinctive intracellular signalling pathways lead to different forms of the same disease (such as cancer subtypes) and their ensuing molecular phenotypes and clinical characteristics.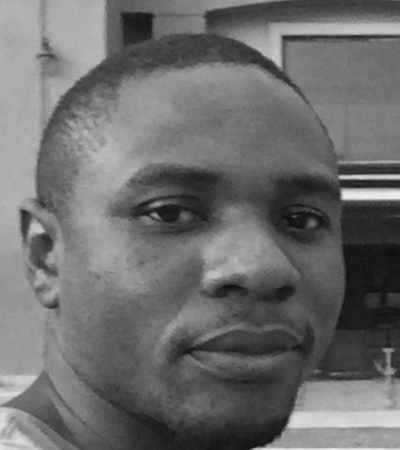 Bioinformatics
Genomics
Biomedical Science
Comparative Genomics
System Biology
Data Integration and Warehousing
Data Mining
Data Visualization
Personalized Medicine
Functional Genomics
Gene Expression
Genetic Variation
Genotype and Phenotype
Human Genetics
Machine Learning
Molecular Interactions, Pathways and Networks
Proteomics
Quantitative Genetics
RNA-Seq
Statistics and Probability
Transcriptomics
Computational Biology
Mr. Lyndon Zass- Project Officer
Lyndon Zass is a Project Officer at H3ABioNet's Central Node, at the University of Cape Town, in Cape Town, South Africa. With a background in Molecular Biology and Human Genetics, he currently holds an MSc Human Genetics which he obtained from Stellenbosch University. His research focus on psychiatric genetics, and more specifically, the epigenetic underpinnings of common psychiatric disorders such as anxiety disorders and PTSD. Currently. He is currently involved in several H3ABioNet projects, focusing primarily on phenotype harmonisation and the development of an African Genomic Medicine Portal.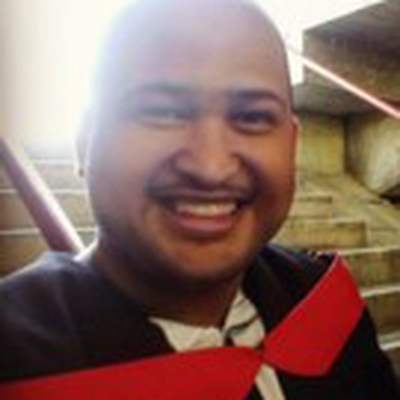 Literature Language
Human Genetics
Biomedical Science
Epigenetics
Health Informatics
Data Standardization
Psychiatric Genetics
Molecular Biology