H3ABioNet provides guidelines on the use of clinical data, data management and data standardization
Ontology Mapping
The H3ABioNet Ontology Task Force is mapping H3Africa data to existing ontologies for the H3Africa catalogue and for submission to the EGA. The diagram below illustrates these mapping activities: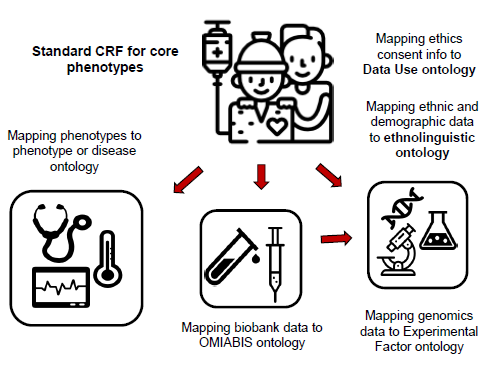 In summary, to ultimately improve the searching of data in the H3Africa Data and Biospecimen Catalogue, H3ABioNet has mapped:
H3Africa project and experimental metadata to the GECKO and EFO.
H3Africa secondary data use restrictions to the DUO.
H3Africa biobank data to OMIABIS.
H3Africa population data to the APO.
A guideline for the ontology mapping process followed by H3ABioNet can be downloaded here.
Where existing ontologies do not cover relevant terms for mapping, we have submitted new terms for incorporation. In some instances, however, it was necessary to develop NEW ontologies or controlled vocabularies. H3ABioNet has been involved in the development of two novel ontologies, including:
The African Population Ontology - under development
A Sickle Cell Disease Ontology - developed with the SPAN network and Sickle Cell Disease community